San Antonio nonprofit donates thousands of dollars to local high school students for youth-led projects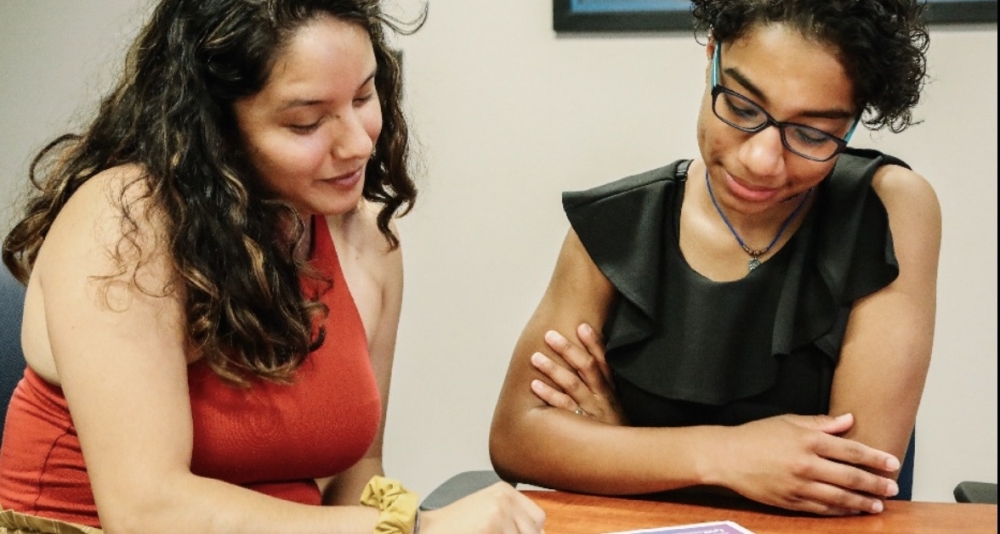 Our Tomorrow, a San Antonio nonprofit Up Partnership, recently awarded $43,000 in grants to 11 local youth-led groups to help support their community projects. (Courtesy of UP Partnership)
Up Partnership's youth voices network, Our Tomorrow, recently provided 11 youth-led groups around San Antonio with $43,000 grants as part of a pilot program to advance various community projects.
According to a press release, the projects are led by students from San Antonio and independent school districts in the Southwest and Central East. Grant funds also went to the Center For Young Minds, a program created by the local ecumenical center.
Lisa Marie Gomez, vice president of youth voices and restorative justice at UP Partnership, said her local organization created the pilot program in response to demand from young people to actively participate in creating solutions to the challenges of their community.
"Young people in our community have valuable ideas about the impact they want to have in their school and in wider communities, and we were thrilled to be able to support them through this initiative," said Gomez. .
The release says the chosen high school students and a mentor from their respective school staff are using their project to make an impact in areas including mental health and suicide prevention, food insecurity, tax preparation. , professional development and the development of social skills.
Funded projects include:
A Volunteer Income Tax Program by CAST Tech High School Student Olivia Sanchez and Staff Mentor Lilian Gonzalez;
A calming room on campus at CAST STEM to address stress, overload, and mental health needs, led by CAST STEM High School student Christian Young and staff mentor Lilia Montes;
A Flower Flow project that funds the purchase of hygienic products for students by Irene Ramos, student at CAST Med High School, and Sabrina Donatto, staff mentor;
Redesigning and expanding a garden as part of the Helping Hands program to allow for outdoor classroom space, as well as a composting area to reduce food waste and a mobile pantry run by CAST's senior student Airanda Wollney and staff mentor Calee Jaskula;
Ladies Hurricane Harvest Young Women's Conference led by Sam Houston High School student Yolanda Cisneros and staff mentor Joredanne Carmack;
The Better with Books program which will establish a book club in a safe space for students by CAST Med student Nicole Nino and staff mentor Anissa Cortez;
A Dress for Success project by DECA Inc. club students at CAST Lead and Staff Mentor Calee Jaskula;
Jefferson High School's Pitmaster Club students' Feeding Community project to help feed his community's barbecue and staff mentor Rogelio Garza;
A mental health awareness evening in May that will invite professional therapists, counselors and psychologists to talk about the basics of mental health, healthy eating and exercise, led by the Young Women's student Leadership Academy Zoe Lopez and staff mentor Kimberly Carter;
The Shooting Star Festival which will highlight mental health awareness through music with all funds raised going to the Tim Bergling Foundation for Mental Health Awareness run by CAST STEM student Carlos Faz and staff mentor Lilia Montes; and
A mental health series from the Center for Young Minds led by students Elisa Gonzalez, Yi Liu, TJ Kalikiri, Trinity Erwin, Alyssa Martinez and Shradha Pavankumar with staff mentor Jennifer Forbes.
Funding for these grants came from $8 million in funding received by the Up Partnership and the San Antonio Area Foundation from the national New York-based nonprofit consortium Blue Meridian Partners in late 2020 to help with an equitable recovery in San Antonio, according to the statement.
Up Partnership officials said they have funds from Blue Meridian Partners for initiatives that specifically fall under their three equity action areas, namely increasing youth voice, access to academic and professional opportunities and healing instead of punitive disciplinary measures.
Up Partnership grants were previously awarded to nonprofit organizations with initiatives related to these priority areas, such as 100 Black Men, Texas American Indians in Spanish Colonial Missions, and Empower House, formerly the Martinez Street Women's Center, according to the statement.