State and Union: a Second World War veteran with Olean ties honored by France | New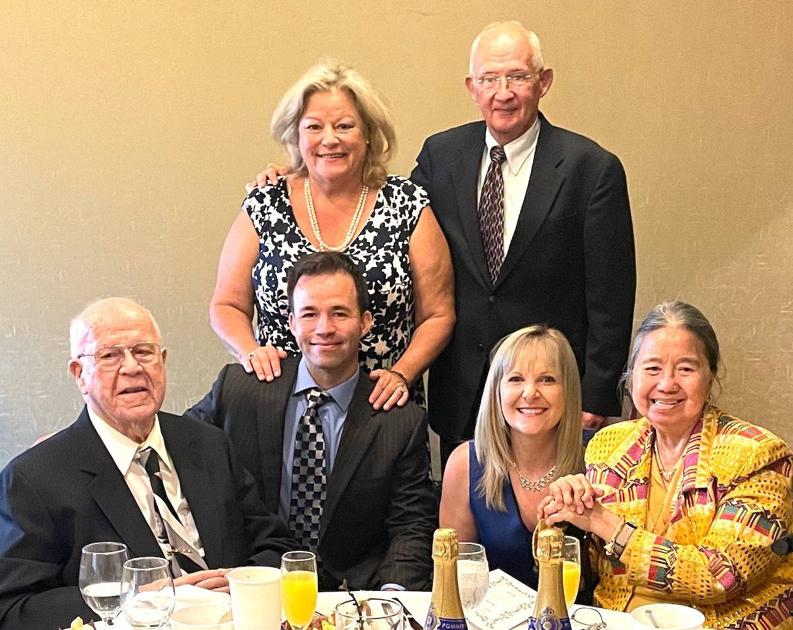 A US Navy veteran, who fought on D-Day in France and less than a year later in Okinawa in the Pacific, received a great honor from France this week.
Eugène Dollard, 96 years old, father of Elizabeth Bysiek d'Oléan, received the insignia of "Knight in the National Order of the Legion of Honor" – Knight in the National Order of the Legion of Honor – by Jérémie Robert, Consulate General of France in New York.
Dollard of Hamlin, Co. Monroe received the honor Wednesday at a ceremony in Fairport attended by his family.
"This prestigious distinction is the expression of the deep gratitude that the French people have for the Americans who contributed to the liberation of France during the Second World War", declared the French consulate. "We will never forget the bravery of American heroes such as Mr. Eugene Dollard."
In 1943, at the age of 18, Dollard left the University of Notre Dame and enlisted in the Navy. Assigned to the US Naval Amphibious Division, he left Hoboken, NJ, on the new USS Henrico. On D-Day, June 6, 1944, Dollard's ship was transporting elements of the US Army's 1st Division during the First Wave on Omaha Beach, providing naval artillery support to the landing forces.
Dollard served on one of the landing craft that embarked from Henrico, and he witnessed the terrible German fire that fell on the soldiers who attacked this area of ​​Omaha.
After his service in the invasion of Europe and, later, in the Mediterranean, he was transferred to the Pacific, serving on the USS Chilton, another personnel carrier. Incredibly, after surviving heavy Nazi fire during the D-Day landings, less than a year later, Dollard suffered a suicide bomber attack – he was injured when his ship was hit in a suicide bombing on April 2, 1945, during the Okinawa campaign.
After the war, Dollard was honorably removed from his Navy duties, returning home to take charge of his life. He completed his education at Notre Dame, including law school, and chose to take over the family business in Hamlin, where he has resided as a successful businessman for 74 years.
Other Americans sharing the Chevalier in the National Order of the Legion of Honor include Generals Dwight D. Eisenhower, Douglas MacArthur and George S. Patton as well as Admiral Michael Mullen.